so I've caught the lurgy that Laughing Boy has had since I gave it to him just before Christmas. It's the kind where you are hot and cold at the same time and where your sinuses throb unless you move your head and then it's just flipping sore. This means that there has been minimal sewing at the boiler HQ over the past few days. I have been working on a couple (or four)
Figure of 8
scarfs using a couple of kits bought from
Brenda
...
I decided to cut each width in half so that the scarves will be 9" wide rather than 18" (I'm a short ar*e and didn't want swamped). I'm still working on them as I am getting much slippage and movement from the voile, despite using my walking foot and pinning like mad. Still, two down (almost) and two to go.
My other ouch today was a muckle big customs charge for a
rash
fabric purchase from a US online shop. It was a late night click-a-thon and I am a little ashamed by it and then just knew it was caught by customs when it took so long to arrive. Nearly 20 quid charges! Flipping heck - mind, when I opened the parcel up and saw some lovely Center City....
and some Architextures.....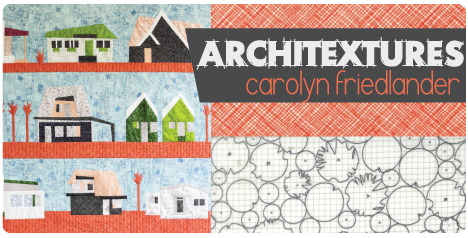 not every print from each collection but all half yards - what was I thinking?! Sorry there are no photos of the actual real life fabric but it's just too dark all the time.
So with that and USPS putting up their prices big style and the general feeling that a fabric fast is required, my wagon just doesn't cover the booze but also fabric purchases - both are OFF LIMITS! And if there is an absolute need, I'm buying British! Anyone know a good FAA support group?
*wanders off for a lie down, all jacked up on decongestant and self pity*